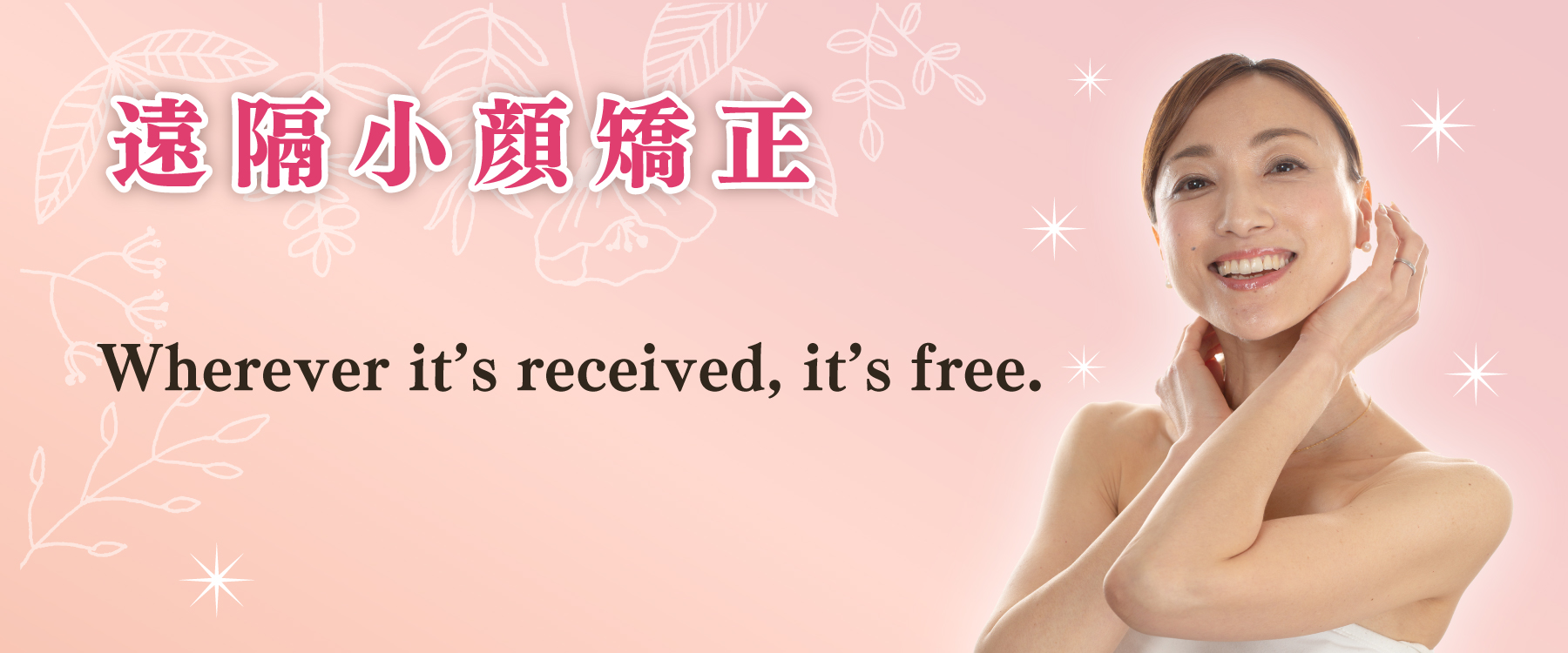 Time & place-free face small teletherapy
October 9th 2017, many events overlapped to me and enabled myself to give small face correction to the customer no matter they are in front of me or not.
I really thank customer Mrs. O from bottom of my heart for giving me a trigger. And about a year later September 2018, I added face small therapy without announcing anything.Even there is no description, over 30 customers have taken my teletherapy until now.
They were the patrons of my salon "Renpo" and they say that the menu name at the moment "Fate changing small face correction" ringed their bell.I have many customers from all over Japan and they have 2 options, come Awaji island take direct therapy when they have relaxing time, or take teletherapy when they don`t have much time to come over distance.
There is no difference of effect between direct therapy and teletherapy, and both have each advantages (average duration after stabilization is 3 weeks, take a look on how it goes by 'Before/After').
On the direct therapy, we can be face to face exchanging words, and you can enjoy the coziness of massage with your five sense In other hand, you don't have to visit my salon for teletherapy because it doesn't ask for place and time so that you can save your time, This must be the biggest benefit for teletherapy.
Renpo's small face therapy is done with my own awareness, so I barely touch customer's face even on face-to-face therapy. As a result, more than 96% of my customers fall asleep soundly.
Most of teletherapy users are busy, so they take therapy while working. And when they have time, they lay their body and mostly they also fall asleep they say. So I would like you to take reservation avoid driving time. (Click here for face-to-face small face therapy) Renpoの小顔矯正メニュー 遠隔小顔矯正

来店することなく小顔矯正を受けていただくことが可能です。

  (施術時間は約40分です。)

15,000円

【初回のみ】


     Zoomまたは、お電話でご要望(30分以内)を伺い、

その後、

遠隔で

施術をさせていただきます。(30分以上カウンセリングが必要な場合、ご予約時にお申し付けください。

)

23,000円 施術の流れ ❶
事前にメールにて、遠隔での施術日をご予約。
施術時、眠たくなるお客様が稀にいらっしゃいます。車の運転など、眠くなると都合が悪い時間帯はさけてください。

その他の施術中の制約はありません。

❷
当日AM8時までに写真を送っていただく。


ご希望を伺い、写真でお悩みの確認。希望に沿った施術プランを準備いたします。

❸
筋肉、骨へのアプローチ、リフトアップ、保湿、美白、目のストレス&心身に溜まったストレスの解放などを遠隔で行います。
❹
髪の毛をサラサラにケア。チャクラバランスの調整を遠隔で行います。
❺
施術終了後から、約2日間かけてお顔は変化し続けます。
❻

2

日後、写真を送っていただき、お顔のバランスや今後の変化の見通しなどを、お伝えさせていただきます。(最初の1回~2回は、約14日良い状態が持続します。3回目以降、記憶形状しやすくなるので、約1か月、良い状態を実感していただけます。

Before & After


Voice of customers

まさに不思議体験!むくみや筋肉の緊張も和らぎ、化粧のノリがめちゃめちゃ良いです。
That was surprising to me when I first hear that small face therapy is possible over distance!To be honest, I wouldn't have taken if it's not Marie.
"Face small teletherapy", it's totally something I never heard of! Lol But I determined to try because I know Marie's skill and her personality.
The result, it's really mysterious but my cheeks are lifted and right corner of my mouth, which has been one of my problems, gets easier to lift.
The swelling and muscle tension is reduced, and makeup sits on my skin really nicely.It's nothing but a magic experience!!I was exhausted with my work, housework, looking after my parent, so I was really greateful for healing.
To me, Marie is like a sacred big tree in shrine which lives hundreds of years and makes me feel her incredible tolerance over distance.
She is an irreplaceable person who cares me and gives me peace of mind wherever she is.I think it's nice to use properly visiting the salon and taking teletherapy.
I have recognized her as a masseur but when I met her since years and heard about tele-massage, honestly, I was like "…What the hell is that?!".
I have experienced massage, beauty treatment, but never imagined taking them without being touched, and done from distance.So I said in my mind "Come on, it's just occult. No way".
Then I tried just for fun.I was told nothing to prepare and I could do things as usual, so I was almost forgotten about teletherapy.
And it was over with no feeling, no happening.I was asked to send my face selfie in a few days, so I did.
And right after I saw her reply with before/after photo of my face… I was blown away!! I didn't notice any change with myself and didn't feel anything even when I saw my face in the mirror. But I was surprised taking a look on that photo with 'the change'.
"It's different!!". That was my impression at first glance.I took some more teletherapy after that, and met school moms on my kid's school open day, and what they said to me was "Have you lost some weight?".
I strongly can say TELETHERAPY IS AWESOME!! If you live far from her and hard to visit, you should try it and feel the difference!!